Subscribe to my newsletter
Hello, I am Michelle Griffiths
A little about myself the founder of MBS.
I have been an avid Yogie since I was five and in my early teens, began Pilates to deal with the fact that I was born with Rotated Tib and Fib, Rotated ankles and knees effecting my hips and more, plus Hypo-mobility with abnormal muscle formation problems "E.D.S" effecting my daily life… which was a constant battle with rehab. After years spent in & out of hospital, I turned to yoga & Pilates as a solution to my pain. Together, they worked so well, I was pain free by the time I was 20 and my posture was corrected as much as it could be. As I have got older it is harder, however if it wasn't for yoga and pilates I wouldn't be as mobile as I am today.
Coming soon is our new FaME program every Wednesday at 12noon a Falls Prevention course in partnership with Barnsley council and Age concern, for all over 50 years, you can be referred by your physio or GP or other heath professional, or even self refer. 
If you have a fear of falling, feel unstable, have had a fall, or fracture from falling get in touch is this a 26 week program, to build a stronger community.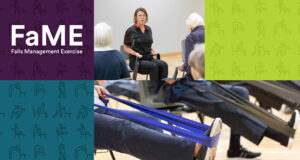 Accredited Teacher training courses 
Pilates level 3 starting 2023
BWY level 4 in yoga our next course in 2023
Apply now for more information 
Old and new students are welcome in 2023.
If you are not an existing student of MBS or haven't attended for 2 years you will need to fill in a medical Health questionnaire which will be sent to you by email, or you can fill one in at the studio. Once booked onto a class, do return the HQ by email before attending  the live stream class or studio class, or bring with you. Please email me for more information info@mind-bodyandspirit.com 
JUST £7 PER HOUSEHOLD FOR ONLINE THROUGH ZOOM FROM ANYWHERE AROUND THE WORLD. So far we have had people tune in from Australia, France, even Bermuda.
OR £7 PER PERSON IN THE STUDIO, you can bring your own mat, or you can use one of our sanitised mats, all equipment is provided and sanitised. 
Price increases from April 1st, we have held £6 price for over 8 years. 
Always read the Terms of conditions of booking a class, workshop or event at MBS. Located at the bottom of each page. Please note class booking a payments have deadlines if you wish to move them to another day, also all payments are none refundable if you can not make your class.
Please note on studio booking the studio classes show up to one week ahead e.g on Monday evening after class,  will know how many spaces are available for the week after. I then add them to the booking system. Thank you. 

Yoga
Ashtanga Yoga – is a powerful yoga style. Our Saturday class at 9.30am for intermediate students, will help you grow weekly, developing your practice. 
Hatha yoga Ha meaning Sun and Tha meaning Moon, daily classes Monday to Thursday at 7.30pm covered Hatha, Raja, Yin, Kundalini, and more yoga styles combined with Mudra, Bandha, Pranayama, Meditation and so much more. Including Mondays at 10.30am and Saturdays at 11am. 
Please take a look at our Gallery for photos and more. 

Pilates
Pilates was designed by Joseph Pilates, a gymnast born in Germany. He recommended a few precise movements emphasizing control and form to aid injured soldiers in the first world war.
We have daily classes at 6pm for all levels including Monday 12noon and Thursday at 12.30 for rehab, and beginners. 
To book please use the booking tab and select Pilates or the calendar Please take a look at our Gallery for photos and more. 

Mindfulness
Mindfulness is featured in all our Yoga classes, being in your present moment, here and now, not thinking about the past or worrying about the future. Our Tuesday evening 7.30pm online or in the studio class focuses more on this subject, Mindfulness Meditation & Yoga , the power of Mudra and pranayama with gentle asana. 

Workshops
The workshops and events you can now book for Online spaces to partake from the comfort of your home, or a Studio space to enjoy the atmosphere of the event.
Please take a look at via our Events tab- workshops or Gallery showing photos from past  – Workshops, Courses & Retreats
What Our Students Have to Say
"Great class made very welcome very clear instructions and classes for all abilities."
Christopher Rudkin
Student
"Went with the wife and it was fantastic. Definitely recommend."
Peter Morrison
Student
"Lovely lady, provides brilliant classes and communication is fantastic."
EGPJ Benson
Student
"The best studio in Barnsley that offers many classes from Pilates and prenatal classes to Hatha and mindfulness sessions! A great community to be apart of."
Craig Horner
Student
"Been coming to MBS since 2008. Without my Pilates and regular stretches I wouldn't be very mobile by now."
Liz Fisher
Student
"Been attending over 60s class. attend this class and you will be more flexible than ever as well as a good giggle."
Val Rushforth
Student
"Just had my first class today, everyone was friendly and the tutor encourages and challenges you to enhance your experience."
Allie Cole
Student
"Small and friendly classes for all abilities. I've been going for about 6 years now and wouldn't miss it. Totally helps me keep moving and keep my sanity!."
Jane Wynne
Student
I love all the yoga activities that Mind Body and Spirit provide. Teachers have so much knowledge and experience. I recently went on the retreat which was amazing. Lots and lots of yoga including focus on chakras, mudras, pranayama and lots of asanas. Food was fabulous, accommodation is great and the grounds are lovely. You always make a new friend on them too. Thanks Michelle."
Lea Taylor
Student
"I recently attended the antenatal yoga/pilates class on a Thursday evening and can not recommend it enough. The breathing techniques helped me to cope with an 8 hour labour with no pain relief, and kept me calm all the way through. If anyone is thinking of attending this class, don't hesitate it is totally fantastic. Thank you so much Michelle."
Lucy Norwood
Student
I've been going to a Pilates class here for quite a few years now and love it. My back is so much better now I have a strong core. Also great for anti natal and post natal ! I attended a mindfulness workshop on Saturday afternoon and it was excellent. Give it a try!."
Victoria Harrison
Student
"I started to attend Pilates classes because of hip pain related to Crohn's Disease. The instructors are very understanding and tailor group exercises to cater for any need. Thank you for your help!."
Debbie Kindred
Student
"I attended the yoga retreat Aug 2018 Friday to Sunday and thoroughly enjoyed it from start to finish. The content was well planned, interesting and great for all levels of ability. Michelle is an inspirational and informative teacher and the event had a warm and lovely vibe. Great food too!."
Michelle Hukin
Student
"Been going to Michelle for yoga & Pilates since being pregnant with my 1st baby & he's nearly 12! Now doing mindfulness on a Thursday, come out feeling so relaxed & ready for a snooze!!."
Anna Brian
Student
Book an Class, a 1-2-1 Private Group or make an enquiry.
Training & Qualifications