Workshops
MBS Workshops for 2023 have been amazing 
Spring and summer workshops are -:
All £18 for 2024 followed by refreshments and cake / biscuits. 
1 – 24th February Crystal Chakra Balancing 2pm to 4.30pm with Claire
2 – 23rd March with Angela Feminine Energy workshop 2pm to 4.30pm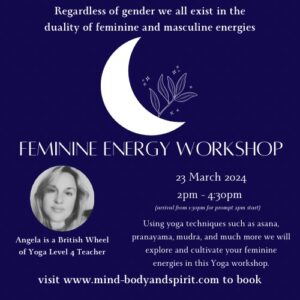 3- April 27th Hypnotherapy, mind work through yoga 2pm to 4.30pm with Louise 
4 – 29th June Pranayama and Sound bath  2pm to 4.pm
Retreat 
Haybergill for 2024 is now full we do have a waiting list. Friday 4th August to Sunday 6th August all accommodation and food are included, plus classes, walking meditation, tai chi in the forest and more.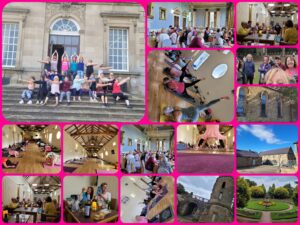 The British Wheel of Yoga
Course posters for the next  BWYQ level 4 teacher training course which will start in October 2023 finishes in 2026.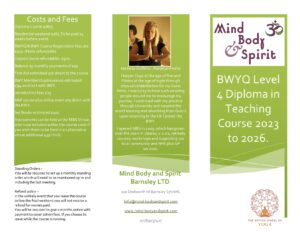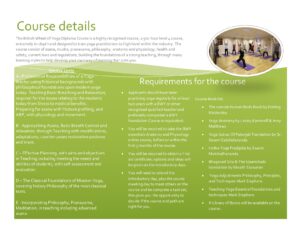 Back for 2023 is the BWY Foundation course a 10-month course with 1 introduction day, 11 months of exploring everything that is Yoga. New dates to be announced Starting 2023.
Q3PIL Pilates level 3 teacher training course, this is a year course face to face one weekend per month, You will cover equipment, beginner, intermediate and advanced plus rehabilitation and NHS, with so much more. Certified by active IQ and recognised by REPS and OfQual. This course not only covers Jospeh Pilates method Mat based and rehabilitation, Medical, NHS using equipment Antenatal and postnatal. As many pilates courses become online, a big part is missed in the learning which is required in pilates classes. Many are level 2 and so many are not certified or recognised by REPS. For a leaflet and pack do get in touch.