Workshops
MBS Workshops for 2021 
As many know in Lockdown, we have to put on hold all our workshops. Our new workshops for Autumn are -:
Pranayama and Gong Meditation with Michelle Griffiths and Craig from soul sound. on the 30th October at 3pm enjoy a pranayama, mudra and moving into stillness practice followed by a Gong Meditation, ending with cake and refreshments. 
Studio spaces are now fully booked online zoom space only.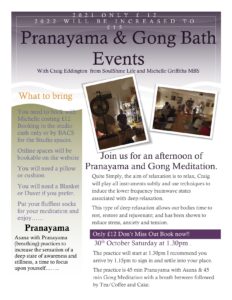 Sunday 7th November 5pm Diwali celebration of lights workshop with Michelle Griffiths using the booking page for the zoom bookings, Face to Face booking is required in the studio, while attending your class. This event is £12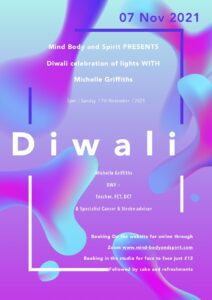 BWY Winter solstice. Our second event with the BWY British Wheel of Yoga, Our studio in Barnsley has been selected to host an event on the 12th December . You can book via the link https://www.bwy.org.uk/yorkshire/   this will take you to the booking a studio space and zoom space. For more information please use our contact page. 
Kundalini workshop planned for 15th January details and booking to follow soon .
By scrolling down, you can see our past workshop events posters and the Course posters of the BWYQ level 4 teacher training course which started October 2020 finishes in April 2023.Back for 2021 is the BWY Foundation course a 10-month course with 1 introduction day, 11 months of exploring everything that is Yoga. New dates to be announced Starting summer 2021.
If you would like to apply for the course, please contact info@mind-bodyandspirit.com for an application pack. Deadline for applications is the end of June 2021 
One of our old posters for the Foundation course. 
The British Wheel of Yoga
BWYQ level 4 Teacher Trainer Diploma course starting October 2020 

The Jpeg is the course leaflet below if you would like a application form please do use the contact page or email, info@mind-bodyandsprit.com Thank you . 
Application
If you would like to apply for the course, please contact info@mind-bodyandspirit.com for an application pack. Deadline for applications is the end of March  2020